Typical Home Water Usage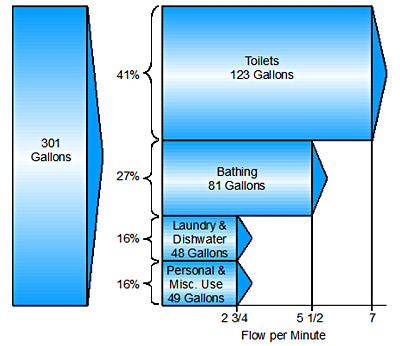 Most water usage in the home takes place in the mid to high flow rates, somewhere between two and 11 gallons per minute.
In categorizing how that water is used in a typical home, the flushing of toilets accounts for 41 percent of the total use. It is well known that, with typical supply pressures, toilets refill at an average rate of seven gallons per minute
Bathing and personal hygiene use account for approximately 27 percent of the typical use in the home; under normal conditions, a shower head delivers approximately 5 ½ gallons per minute. Laundry and doing dishes account for approximately 16 percent of the typical domestic usage; faucet devices are required to deliver approximately 2 ¾ gallons per minute at normal house supply pressures.
Drinking, cooking, and other miscellaneous uses account for the remainder, or approximately 16 percent of the typical usage. Again, most of this miscellaneous use is delivered through faucet devices.
ATS News Leaks
ATS to the Rescue in
Fargo, North Dakota
Helpful Information
ATS Professional Services and Equipment Sales Brochures
Featured Events


Kane County
Water Association
Golf Outing
The 19th Annual Joint Products Day Trade Expo
Application Form


Ride With Purpose
Water Buffalos
ACE-10 Charity Ride
Memberships:


American Public Works Association

American Water Works Association


National Fire Protection Association

National Fire Sprinkler Association


Ride With Purpose
Water Buffalos