Winter Water Main Leaks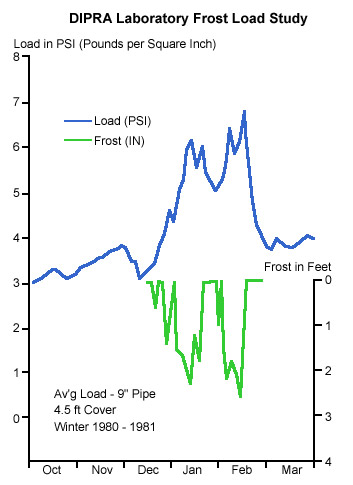 Confirming what you've always suspected, one of the major factors in water main breaks or leaks in winter in caused by frost, especially in rigid piping materials.
It has been common knowledge that temperature changes in the 39° area, both rising and falling, causes pipes to break. This seems especially true with ground supply water; that is water coming out of elevated or ground level storage tanks. The 39° point seems to have no scientific documentation. (What's your magic number?) Nevertheless, it has just about become a rule-of-thumb accepted by most.
However, there is now conclusive evidence that the frost line itself, by exerting pressure on the pipes, causing them to flex, is the major cause of the problem.
The Ductile Iron Pipe Research association (DIPRA) has been conducting studies of frost loads since the winter of 1976, measuring the correlation between the depth of the frost line and the average load (in terms of pounds per square inch) on a 9' OD pipe under 4.5 feet of cover.
The chart at the left illustrates the correlation. Note that as the frost line passed 16", the load on the pipe passed 5 psi. As the frost line reached 26", the load on the pipe neared 7 psi. However, note that as the frost line moved up and down between its major points of depth, so did the pressure on the pipe.
Obviously this variance in load exerts considerable stress/strain on the pipe, leading to "beam breaks" or "blowouts" in weak spots in the pipe. Leaks also occur at joints that will not flex such as the older poured lead joint where flexing can cause a piece of lead to pop out, with a resultant leak.
Note in DIPRA's frost load charts for the five-year period, the varying effects of frost line changes. Contrast the winter of 1978/1979, with its almost single sharp drop and then steady upward frost line with up and down frost line of the 1980/81 winter. In the former winter, the load in psi on the pipe had a rapid single peaking, while in 1980/81 winter there was an up-and-down fluctuation of load on the pipe.
Our thanks to the Ductile Iron Pipe Research Association for allowing us to use these study results demonstrating how frost increases the load on pipes with resultant breaks, blowouts or leaks in the pipe.
ATS News Leaks
ATS to the Rescue in
Fargo, North Dakota
Helpful Information
ATS Professional Services and Equipment Sales Brochures
Featured Events


Kane County
Water Association
Golf Outing
The 19th Annual Joint Products Day Trade Expo
Application Form


Ride With Purpose
Water Buffalos
ACE-10 Charity Ride
Memberships:


American Public Works Association

American Water Works Association


National Fire Protection Association

National Fire Sprinkler Association


Ride With Purpose
Water Buffalos